This week, we became aware of the need for new and very gently used baby items at Inova Fairfax Hospital. Many newly arrived Afghan families will be welcoming new babies into the world soon but have many needs. Lots of people left Afghanistan in a hurry with nothing but a small bag of belongings…if that.
The birth of a child is a cause for celebration and joy! We are so excited to launch Operation Baby Shower to shower these new neighbors with the key items they'll need for their precious newborns. We are working in coordination with a social worker on the frontlines of helping these families at this critical time.
We will keep this list of requests up-to-date, so please check back and refer friends and neighbors who may have items to contribute. Got questions? Email us at bruenchapel@gmail.com.
Baby items we're collecting:
Baby blankets
Baby clothing size 0-3 months (especially long sleeved or warmer clothes with autumn's chill right around the corner)
Diapers (Newborn size)
Infant car seats (not expired/manufactured in the last 5 years)
Target or Walmart gift cards
Pack and plays or bassinets
All items should be in good shape: nothing with stains, tears, or missing pieces please!
Prefer to donate money instead?
Please designate your gift to Operation Baby Shower by check or through our online portal. All monetary donations will go toward buying supplies or gift cards.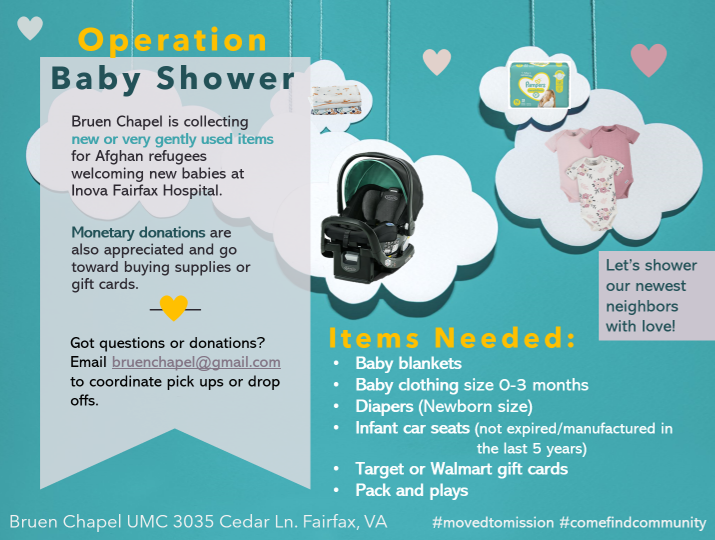 Thank you for helping us to tangibly show mercy and love to these neighbors in need.