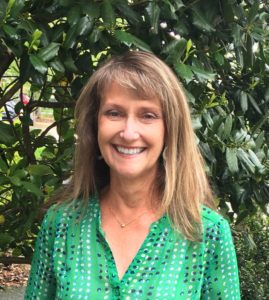 Pastor Betsy Hudson comes to us with a diverse background, which God is fully utilizing in ministry here at Bruen Chapel UMC. Born and raised on the Eastern Shore of Virginia (think Chincoteague Ponies), she graduated with a BS in Education from the University of Virginia. After teaching elementary and special ed, she found her way into new home sales. Betsy was a sales and marketing vice president, corporate trainer and facilitator, personal and business coach, and general brokerage agent.
After years in the business world, she began working part time at Arcola UMC near Dulles airport and heard a call to full time ministry. In 2020, Betsy graduated with her Master of Divinity from Wesley Theological Seminary in Washington, DC. Recently she was licensed by the Virginia Conference of the United Methodist Church as a local pastor and continues her work to be ordained as an Elder. While serving Bruen Chapel as a part-time pastor, she will continue as the Minister of Grow at Arcola.
Betsy lives in Brambleton, Virginia, with her two rescue cats Sally and Maxine. You can find her out walking most mornings there at 6am, and on off times she loves to hit the beach with a book. Betsy plans to spend her weekday time in Fairfax at the local eateries with her laptop, and she encourages you to let her know when you would like to meet her at your favorite place!
Email her at PastorBetsyBruenChapel[at]gmail.com.